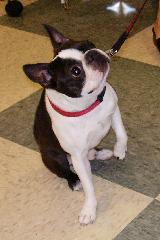 The Canine Good Citizen (CGC) Obedience Class is an intermediate training program available to pets over the age of 6 months old who have completed the S.T.A.R Puppy course OR pets over the age of 1 year old.
The goal is to be able to pass the AKC Canine Good Citizenship (CGC) examination
This is a 6-week class – Week 7 is for CGC Test Prep and Testing
Topics Include:
Review and MASTERY of basic commands
Walking on a loose lead
"Stay" with distractions
The next CGC class will begin on June 3, 2020 (Please note this date has been changed from May 6 due to the ongoing Covid-19 situation).
Cost is $149 or $139 if paid in advance. (Please note the advance discount cannot be combined with other offers)
Participants will have the option of taking the AKC Canine Good Citizenship (CGC) test during the last class.  There is an additional fee if you want your dog to take the CGC test during the last class to cover our costs for the AKC materials.  There is no additional charge if you want to participate in the last class but do not want to take the test.
Please call or stop in to ask us any questions you may have.  When you register and pay for the class and we will confirm your pet's vet records are current in our system.
To get the most out of any of our Training Classes, please download and return this Intake Form.  It will help our trainers to personalize the class to address your specific needs and goals.
Owners of pets who are new to Walkers should also download and complete both sides this New Client Form which will get your pet entered into our system.
Next Class:
Wednesday, September 23rd, 2020, at 8pm