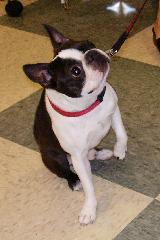 Topics Include:
Review and MASTERY of basic commands
Walking on a loose lead
"Stay" with distractions
The goal is to be able to pass the AKC Canine Good Citizenship (CGC) test
This is a 6-week class – Week 7 is for CGC Test Prep and Testing
Cost is $149 at the door.  ($139 in advance)
Participants will have the option of taking the AKC Canine Good Citizenship (CGC) test during the last class.  There is an additional $5 fee for this class to cover the cost of the AKC materials.  The CGC test costs $10 if the dog has not taken this class at Walkers.
Please call or stop in to ask us any questions you may have.  When you register and pay for the class and we will confirm your pet's vet records are current in our system.
To get the most out of any of our Training Classes, please download and return this Intake Form.  It will help our trainers to personalize the class to address your specific needs and goals.
Owners of pets who are new to Walkers should also download and complete both sides this New Client Form which will get your pet entered into our system.
Next Class Dates:
Our next class will be held after the Holidays to best avoid scheduling and weather conflicts! Call to enroll your pup today and receive a free Holiday Gift!
8:00 – 9:00 PM, Wednesday January 24th, 2018!