Instead of being home alone while you are at work, your pet is getting the companionship, supervision and exercise it needs while in Doggie Daycare.  Regular walks keep dogs on their schedule and Playtime provides needed socialization with other dogs and people.
For puppies, Doggie Daycare is a must since it helps with house-breaking and teaches them to be familiar with a leash.
Doggie Daycare helps those "High Energy" dogs burn off tension to be more manageable in the evenings.
Daycare also gets older dogs moving during the day so they have more energy when they go home.
Many times, inappropriate and/or destructive behavior (chewing, soiling, excessive barking, etc.) in dogs results from being bored and wanting attention.  Daycare takes away the boredom and supplies the attention so that your pet is happy and well-adjusted.
Other times, what we believe to be inappropriate behavior (especially soiling in the house) is actually due to a medical condition.  In doggie daycare, your pet is closely supervised and any changes in attitude and behavior will be noted immediately.
We are happy to customize a daycare plan that is appropriate for your dog's needs. Some dogs require a more structured day, with a smaller group of friends to avoid over-stimulation, and we help these dogs learn the boundaries that they would see in a pack setting and we help them self-regulate with nap and play. Other dogs do well with a larger pack and can self-regulate without over-stimulation, and we can accommodate that too!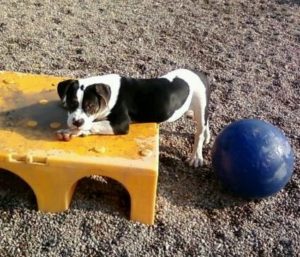 Daycare is offered Monday—Friday from 7 AM to 7 PM 
A Daycare Quote:
"Gypsy loves daycare!  What does she do at home?… Lay out on a couch and sleep.  I wish I could bring her every day!  She's so full of life, no one believes her age!"