The Walkers Pet HoTail building and grounds in Murrysville  have many unique features which benefit our guests and can give you "peace of mind" knowing that we care enough to really "dig" into the de-"Tails".
Here are some examples:
Daycare and Training Areas
In 2016 we had the floor in the Daycare and Training areas professionally treated with several coats of industrial grade epoxy – sealing and protecting it from dirt and acids that could penetrate and be adsorbed by a standard concrete surface.  The new surface not only stays clean, but it is non-slip for a better experience for our guests.
In 2016 we also installed white vinyl fencing in our indoor daycare area.  This fencing is easy to clean and is free standing so it doesn't penetrate the sealed epoxy floor.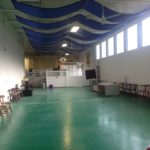 For 2017 we equipped this area with sound absorbing wave baffles to reduce noise.  These sound dampeners are made in the USA and have a Class A fire rating as tested by ASTM E84.