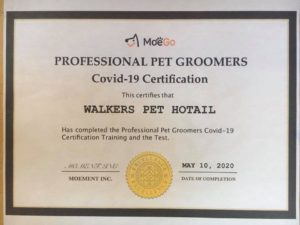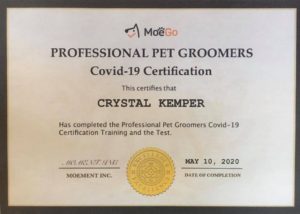 UPDATE AS OF JUNE 15, 2020 –
NORMAL BUSINESS HOURS HAVE RESUMED!!!
COVID-19 – We are here for you… and here is what we heard from you!
Dear Walkers Family,
This page provides updates on the COVID-19 situation and what is going on here at Walkers.
Our services are essential for pets and their people. High quality pet care you can rely on will be especially important in these difficult times, when people may need to focus on their own care.
Walkers will remain open and will continue to provide the goods and services needed by you and your pets:
Overnight Boarding for Dogs and Cats
Doggie Daycare
Grooming
Training
Veterinary Services and
Pet Supplies
We are here for you. If you need us, or if your plans change for any reason, please call us promptly so we can accommodate you.
UPDATE AS OF 5/26/2020:
As we all start transitioning from "red" to "yellow", your feedback gave us direction on how best to meet your changing needs.
Although some people are returning to their normal work schedules, many of you are still planning to work from home for the next few weeks. Similarly, although most people expect to take vacations, specific plans have yet to be firmed up.
With this in mind, these are our plans for the next few weeks:
COVID Hours:
For Reception and Retail and for Boarding we will continue our "COVID Hours"
9AM-5PM     Monday-Friday
9AM-3PM     Saturday
2-5PM           Sunday
Veterinary and Grooming Services are still available by appointment.
Training Class times will be staggered to limit class size and permit sufficient social distancing.
For Daycare we will be maintaining our "COVID Hours" and using our "Air-Lock System"
9AM-5PM     Monday-Friday
HOWEVER….
We will be here for you if you:
Need an earlier drop-off time or a later pick-up time
Have paid in advance (example: Daycare package)
Let us know at least a day in advance so we can staff appropriately
COVID-19 ACCOMMODATIONS:
To adapt to the new levels of precautions, we are making changes to safeguard your health, as well as the health of our staff and their families.
"Air-Lock System"
During business hours, the outer glass vestibule doors will be unlocked but the inner vestibule doors will be locked.

The surfaces in the entry vestibule are sanitized regularly

We will meet you at the door (or at your car) to run your pets back and forth and to bring out any pet supplies you may need

In the vestibule, please remove your dog's leash and collar and replace them with one of our sanitized slip leads.

Please stay with your pet until one of our staff takes them back.
Please, only 1 client at a time in the "Air-lock"
If we do not see you right away, please call us at 724-327-7297 and we will be right up!

Payments can be made over the phone. Please call us from our parking lot when you arrive to safely process your payment – don't call us while driving!

If you need to pay by cash or check, please let us know.
Extra Safety Measures:
To adapt to the new levels of precautions, we are making additional changes to safeguard your health, as well as the health of our staff and their families.
As you know, there is no "kennel smell" at Walkers. This is because our cleaning and disinfecting procedures have always been extremely thorough. You may not know it, but we both have pet allergies (it's true!) and could not do this job if our cleaning procedures did not exceed industry standards. We regularly sanitize all surfaces that pets or people can come in contact with.
Since this outbreak, we have installed extra hand sanitizer stations for our clients and staff and have increased the frequency of our cleaning. Staff will be wearing protective masks and a new Lexan protective shield has been installed.
We have also rearranged our retail & reception areas to create more open space so our clients can have more "social distance" when in our building.
SERVICES:
Daycare and Grooming will continue to use our "Air-Lock" system.
Veterinary, Boarding, Training and Retail customers will be allowed into the building if they are wearing masks. Of course, we will still be happy to bring any retail items out to you if you choose to stay in your car.
Veterinary clients are asked to wait in their cars until the previous patient leaves to reduce time in the building.  We appreciate you patience.
Unfortunately, out of an abundance of caution, our Puppy Parties (for dogs under 2 years old) will NOT take place until further notice. We apologize for this, but we are sure you understand our decision.
Additionally, we want to remind you of our new Pet Taxi service (click here for details). This service has been available on Tuesday's & Thursday's, but in light of current events, if you need this service on a different day, please let us know and we will try to accommodate your needs.
GENERAL:
Unlike stories you may hear on the news, our shelves are fully stocked. We have a variety of toys and treats to keep your pups busy when they are at home with you (and kids who are out of school). Our high quality pet foods are all sourced from North America, so we don't anticipate any shortages.
Remember that we and other small businesses are dependent on in-person transactions need your support to get through this time. We've got gift certificates for your future travels and they can be purchased over the phone. If having the kids and the dogs at home is too much, remember we have doggie daycare!
Please do what you can to care for the vulnerable in our community: Donate to food pantries and check on at-risk friends and neighbors. Drop off playing cards or puzzle books to nursing homes.
We will keep you apprised by email and Facebook of any future changes. We appreciate your support and please remember we are always here for you and your pets.
We will attempt to keep you up to date as the situation evolves….
Michele, Sam and everyone here at Walkers