Training classes teach you how to best communicate with your dog.  Organized training classes also provide an opportunity for your dog to learn how to behave when other dogs are nearby.
At Walkers, we know training is a key part in maintaining a happy, balanced relationship with your dog. Our training staff uses a positive-reinforcement approach and will work hands-on with you and your pet.
Please call or stop in to register and pay for a class and confirm your pet's vet records are current in our system.
To get the most out of any of our Training Classes, please download and return this Intake Form.  It will help our trainers to personalize the class to address your specific needs and goals.
Classes Offered: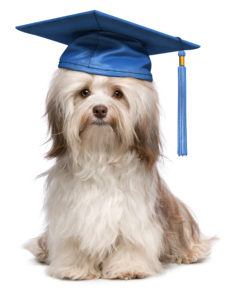 Walkers Pet HoTail is proud to be the first in the area to offer
SKILL LEVEL Based Obedience Training Classes we call "Levels"
Levels training is the most innovative, flexible and cost-effective way for you and your dog to participate in obedience classes.
We will now offer "Memberships" (like health clubs) so you and your dog can participate as much or as little training as you want with the flexible schedule you need.
"Memberships"
$250 for 2 months (8 weeks)
$325 for 4 months (16 weeks)  – a 35% savings vs. the 2 month membership
$450 for 6 months (26 weeks)  – a 45% savings vs. the 2 month membership
All dogs on a level have the same skill set. Each level introduces new skills to your dog, building on skills already mastered.  Dogs (and their owners) "level up" at their own pace as more skills are learned.  This allows more time for dogs who need it while quick learners can progress faster.
Instead of signing up for a set number of classes on a specific day of the week, the Levels Program allows "Members" to attend as many classes as they want, held on multiple dates. Classes are held on Monday and Wednesday Evenings and on Saturday Mornings.  Members can attend as many classes as they want at their level or at a lower level (if they want to brush up on some skills).  If you can't make one class you can take another.
How it works:
All dogs and their people start at Level One.  The first class is used to review how the program is structured and the best practices for training your dog.  Level One covers training basics.  Dogs with prior training can move up to Level Two quickly and so on.
In Level Two you and your dog will learn the skills needed to pass the Star Puppy Test – even if they aren't a puppy anymore!
Levels Three and Four cover skills required to become a certified Canine Good Citizen (CGC).  This is a national program, not a competition, from the American Kennel Club (AKC) for all dogs that sets a standard for a well trained dog.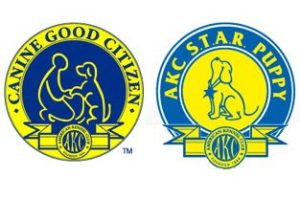 Classes will start at the following dates and times:
Monday Evening, January 9th at 7 PM
Wednesday Evening, January 11th at 7 PM
Saturday Morning, January 14th at 10 AM
You can start training any of the above dates or any following Monday, Wednesday  or Saturdays at the same times.
Please note that all dogs in the class must be at least 4 months old and have all of their vet records.  Aggressive / dangerous dogs will not be allowed in class.  Females may not attend class if they are in heat.  Also, please note that training requires commitment.  Refunds will not be issued.
Click picture below for our most recent graduates!
Proud Graduates