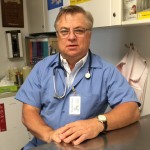 Meet our Veterinarian, Dr. Wojciech Sliwa, DVM.
Dr. Sliwa was born in Poland and graduated in 1993 from Purdue University in Indiana as a Doctor of Veterinary Medicine.
Throughout his career, he has been heavily involved in working with shelters and other non-profit animal organizations.
With over 33 years of experience in animal care, Dr. Sliwa is a welcome addition to our veterinary team and he looks forward to meeting you and your pets!
Dr. Sliwa is available for Wellness Visits, Vaccinations, Diagnostic Testing, Spay/Neuter Services, Dental Services and outpatient veterinary services.